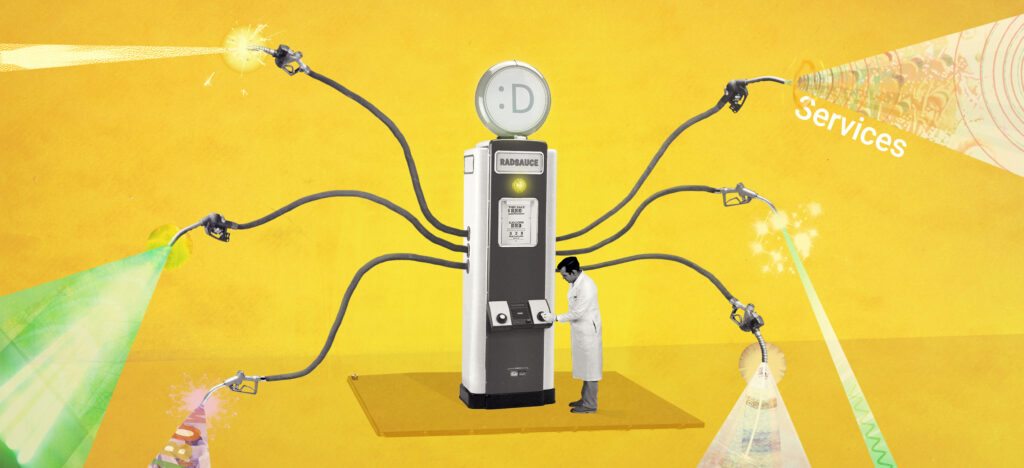 Strategy – We listen to the problem you're trying to solve, the audience you're trying to reach, and map out a strategy that marries context, concept and content.
Creative Concept – We develop ideas that combine audience insight, technical knowledge on the options for the medium of delivery, and an understanding of how to create the most impact.
Content Development – Working on a production model, we produce the creative execution for whatever medium best delivers the message, with the ideal team of creators involved in that production. This could include UI + UX designers, 2D and 3D animators, game designers, coders, video production, and more.
Areas of expertise include:
Augmented Reality – Concept, Content, and Application Development for AR. We can create content including 3D animated rendered assets, 360° photography and video. Image triggers, object-recognition, computer-vison and geolocation-based triggers.
Virtual Reality – Concept, Content and development of VR games, training tools, product demos and more. Assets can be created in 3D animation, or 360° video or photography.
Game Development – Concept, design, develop and deliver games and gamification for platforms including Facebook, Mobile, AR, VR, Voice and Ad units.
Artificial Intelligence – We offer machine learning and AI integrations that produce advanced functionality such as image/object recognition, results prediction, and head/hand/body pose tracking.
Voice Apps and Games – From concept to scripting, sound design, casting and development, we can deliver voice assistant applications and games that can play across the ecosystem of voice-based devices.
HTML5 – Game Development for websites and social media, playable ad banners and ad units.